A Revolutionary Convertible Garment
Fashion Design for Women of
All Sizes, Shapes & Ages
Rarely does an opportunity become available
to license real innovation in the fashion world.
Primed for the exploding Women's Athleisure Market, Chez Cirque Fashions® has the perfect opportunity for a talented licensing agency to make a significant impact and profit in the fastest growing segment of the fashion industry.
GREAT STYLE FOR EVERY WOMAN
Helping Women Look & Feel Beautiful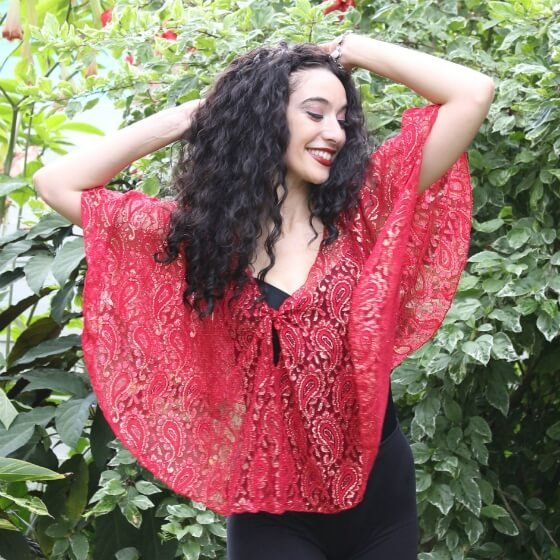 Introducing the world's most convertible fashion design developed for the active woman who values quality, utilitarian, eco-friendly and socially-responsible products. Depending on the fabric used, the product can be produced as a luxury item or a necessity good.
Our garments reflect a passion for making every woman look and feel beautiful, elegant and unique for every occasion.
Our United States patented design uses the simplicity of a circle and extraordinary fabrics so women can effortlessly change their look with a single piece of clothing.
A natural fit in the Althleisure clothing market, Chez Cirque Fashions ® offers a high-value, versatile consumer product with low manufacturing costs. 
STYLES FOR EVERY WOMAN'S WARDROBE
Endless Possibilities
Tested on Hundreds of Fabrics
VERSATILE PATENT PENDING DESIGN
Low Manufacturing Costs
Minimal Fabric Waste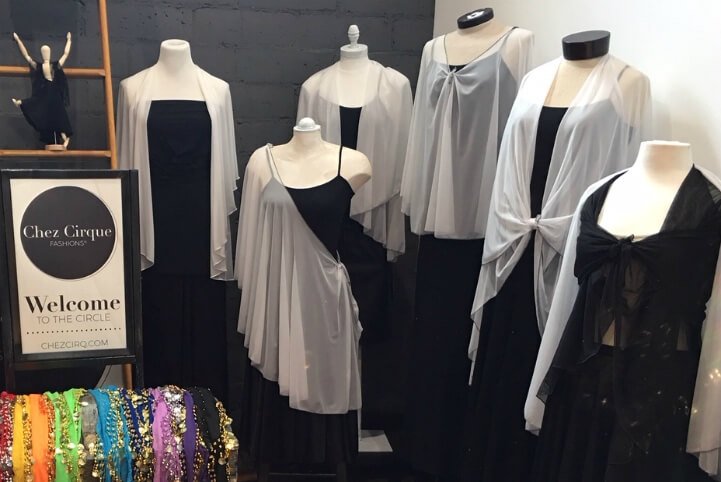 The Cirque was created with comfort and ease in mind. Years in the making, we have tested hundreds of types of fabrics that expand the functionality and price-point.
This convertible garment is a seamless design, made from a single piece of cloth in the shape of a circle which allows the fabric to drape beautifully in every style. The simplicity of the design allows for low manufacturing costs and minimal fabric waste, allowing the U.S. PATENTED garment to be both an eco-friendly and utilitarian product.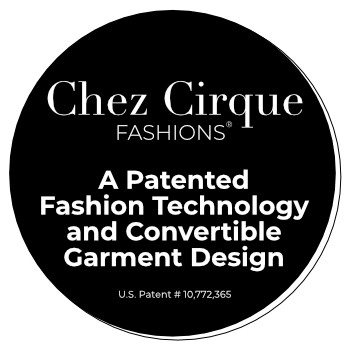 Seamless Design from a Simple Circle
Offers Dozens of Styles or Expressions with a single garment
Utility U.S. Patent #10,772,365
Chez Cirque's U.S. Patented design allows the consumer complete versatility and multi-functionality that adapts to serve her active lifestyle. From the yoga studio to brunch or a casual evening out, the options are only limited by one's imagination and creativity.
16 distinct style Expressions © that add versatility, functionality, and convertible style to any outfit.
The Cirque Expressions Demo
The Cirque is the most amazing thing! A circle of fabric that can be worn at least 18 different ways. If you have a black shirt and a skirt, you can get 40 outfits from it. I'm not into clothes shopping, but if you can give me ten outfits from one thing, I'm all over it!
The Cirque is such a staple in my wardrobe now. I live in yoga pants and tee shirt most of the time and throwing a Cirque on instantly adds a modern, classy touch. So versatile and easy. I love it!
I have to have moveable, bendable, flexible clothes. The Chez Cirque is such ease! It's easy and stylish… I want that for my life. Throw on some earrings and accessories and I'm out the door in five minutes. Fabulous!
I'm having so much fun with my tops. They're so feminine to wear, and sexy stuff because it's sheer and covers my middle. I like the short ones and want two more in black & white, and navy blue.
Love the brightness, the sophistication, the happiness, the simplicity! Super cool. Super excited!!!!!
Chez Cirque Fashions clothing makes me feel so feminine. It's easy to wear and makes me feel so great!
It's actually so simple, yet extremely complex - like all beautiful things!
Chez Cirque Fashions has a unique opportunity for a talented licensing agency to work with us and share the unique, U.S. Patented designs with potential partners and licensees. We received our Utility Patent on September 15, 2020.
U.S. Patent #10,772,365